This guide explains how (ULEZ) works and the fees you'll need to pay.
Summary
Ultra-Low Emission Zones (ULEZ) are a new concept to tackle urban air quality challenges in the United Kingdom.
The first ULEZ came into force in Central London on 8th April 2019.
Financial charges are used to disincentivize drivers of the most polluting vehicles from driving within the zone.
Financial charges under the London ULEZ are in addition to the Congestion Charge, and failure to pay can result in a penalty.
The London ULEZ is distinct from the Low Emissions Zone (LEZ) which covers a wider area and mainly affects commercial vehicles.
What is an Ultra-Low Emission Zone (ULEZ)?
Purpose
Vehicle transport is the primary source of air pollutants such as oxides of Nitrogen (NOx), Sulphur Dioxide (SO2), Carbon Monoxide (CO) and exhaust particulate matter.
A ULEZ is designed to improve the air quality within the zone by discouraging vehicles that produce more harmful emissions through an additional financial charge.
ULEZs will typically be established in areas of high population density, high traffic congestion and resultant poor air quality.
Enforcement
ULEZ authorities typically use ANPR cameras to establish which vehicles have entered the ULEZ and therefore are required to pay the charge.
That charge will typically have a daily fee attached, while regular users can set up automatic payments. There is likely to be a penalty fee for those who fail to pay the charge correctly.
Vehicles affected by the ULEZ
Initially the cleanest internal combustion engine cars will make the cut, though it is likely that rules will be tightened over time to push motorists towards zero emission options.
Exemptions and Discounts
There will likely be exemptions for zero emission vehicles, but also potential exemptions or discounts for special cases, such as residents of the ULEZ and disabled users who are reliant on their car.
Tip: While some charges relate to discouraging car use in an urban centre to ease congestion, ULEZs aim to improve air quality. As such, they are likely to remain in force 24/7, rather than just during traditionally busy periods.
The London ULEZ
The first ULEZ came into force on 8th April 2019 in London. Here are the key details:
Area
The ULEZ operates in the same central London area as the established "Congestion Charge Zone", and the charges are supplemental to it.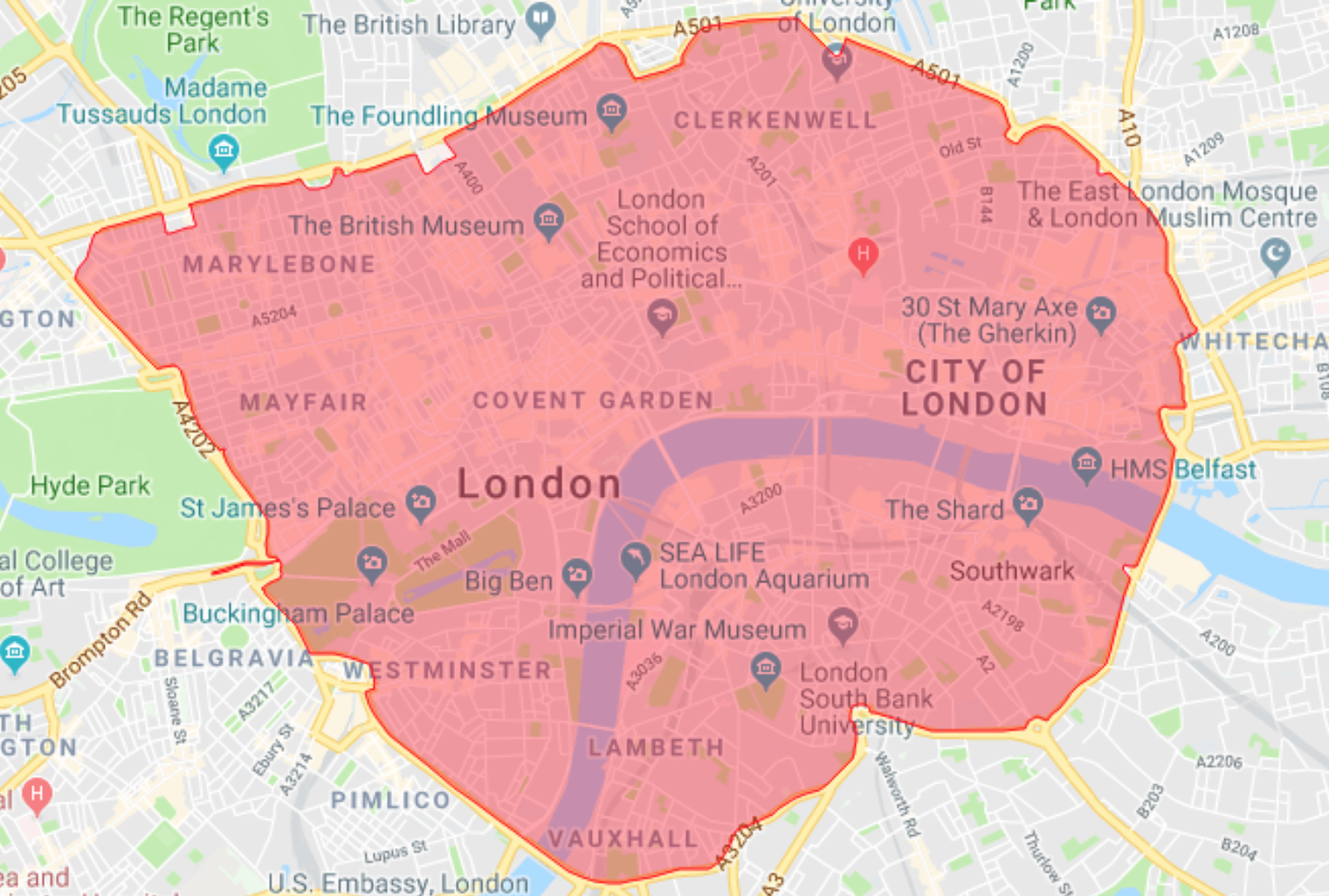 Hours of Operation
The ULEZ is permanent.
Operating 24 hours a day, 7 days a week, every day of the year.
Conversely the "Congestion Charge" which is not in effect 18:00-07:00 on weekdays, or weekends, public holidays or any days between Christmas Day and New Year's Day.
Minimum Emission Standards
Petrol: Euro 4
Diesel: Euro 6
These standards are more stringent for diesel (due to higher air quality impact), but they are both met by all plug-in hybrid vehicles (PHEV) and, of course, all full battery electric vehicles (BEVs).
Tip: A nice feature for low emission vehicle drivers of the ULEZ is there is no need to pre-register and pay an annual fee to claim your exemption – unlike the Congestion Charge system. The ULEZ portal simply calculates what fee is owed per day from your vehicle registration number.
Discounts and Exemptions
The following can claim some form of discount or exemption:
Residents of the ULEZ
Vehicles for disabled users
Taxis
Private hire vehicles
Historic vehicles (built more than 40 years ago)
Agricultural, military, non-road going vehicles than can use the highway (e.g. excavators), some mobile cranes
Vehicles used for shows or performance
Not-for-profit minibuses
Rules for each vary from blanket exemption to time-limited 100% exemption to partial discount. If these are relevant to your vehicle we recommend reading the detail here.
Pricing
£12.50 for most vehicle types, including cars, motorcycles and vans (up to and including 3.5 tonnes)
£100 for heavier vehicles, including lorries (over 3.5 tonnes) and buses/coaches (over 5 tonnes)
Payment
Payment must be made by midnight on the next working day after the first day of travel. Payment by post must be made at least 10 days in advance of incursion into the ULEZ to allow it to clear.
The following payment methods are accepted:
Online payment
Pay via this portal that calculates what is due based on the day of access to the ULEZ and your vehicle registration number.
Phone payment
You can pay over the phone with lines open Monday to Friday: 08:00-20:00, but closed bank holidays.
UK: 0343 222 2222 (TfL call charges)
International: +44 20 7649 9122
Textphone: 020 7649 9123 (if you have impaired hearing)
Auto Pay
Auto Pay bills you automatically every month for any Congestion Charges and ULEZ charges you may owe. Set up Auto Pay.
TfL Pay to drive in London app
TfL's free app helps you pay your Congestion Charge, ULEZ and Low Emission Zone (LEZ) charges and manage the whole process.
Tip: We strongly recommend regular or even semi-regular users of either the Congestion Charge Zone or the ULEZ set up Auto Pay. The penalties are steep if you forget to pay. The app is useful, but autopay stops you falling foul.
The best way to set up Auto Pay for up to 5 vehicles and manage your details is through the app or by setting up a "London Road User Charging account" through the website.
Penalties and Enforcement
If you fail to pay (or make an error on your number plate or date of travel), you will be liable for the following penalty fees.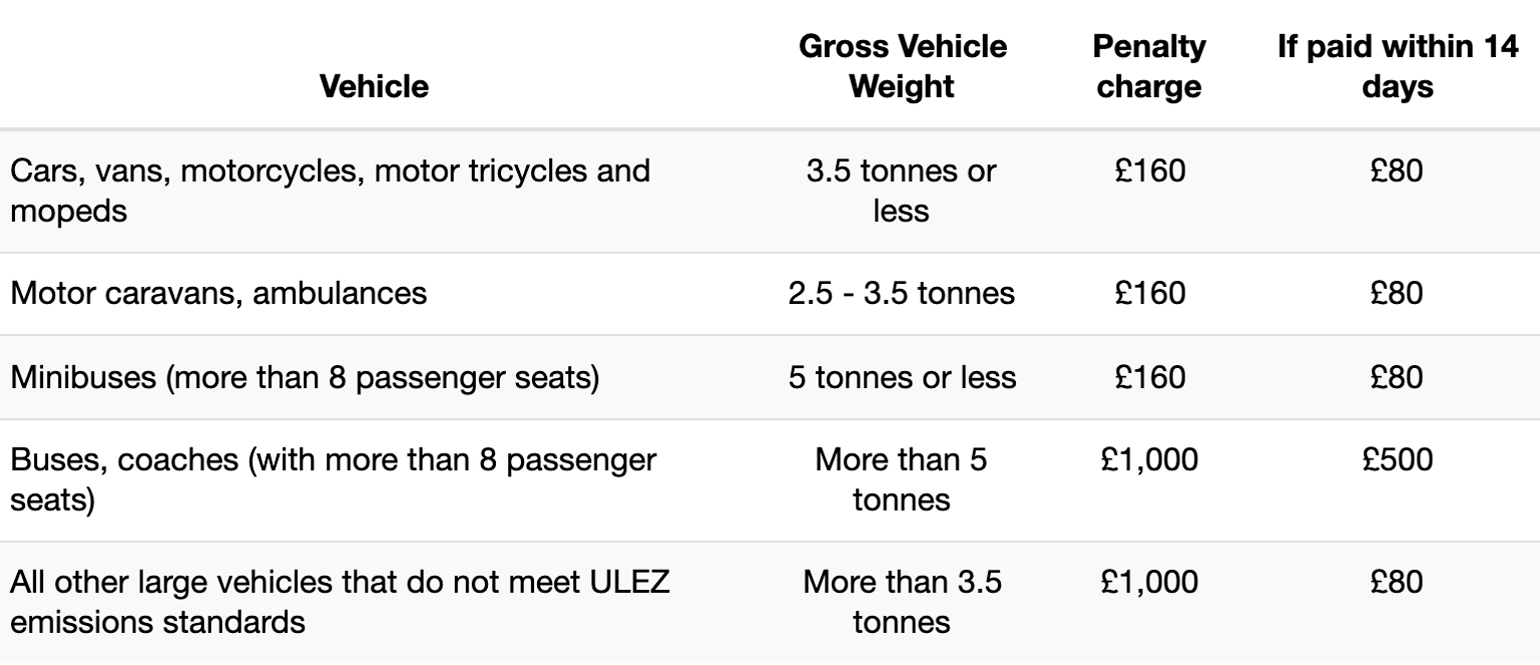 Tip: Paying the charge is much less painful than paying the penalty! Better yet, drive an EV and forget all about it!
London ULEZ vs LEZ vs Congestion Charge
This section explains the difference between London's three different traffic charging schemes.
ULEZ
Detailed above.
Low Emission Zone (LEZ)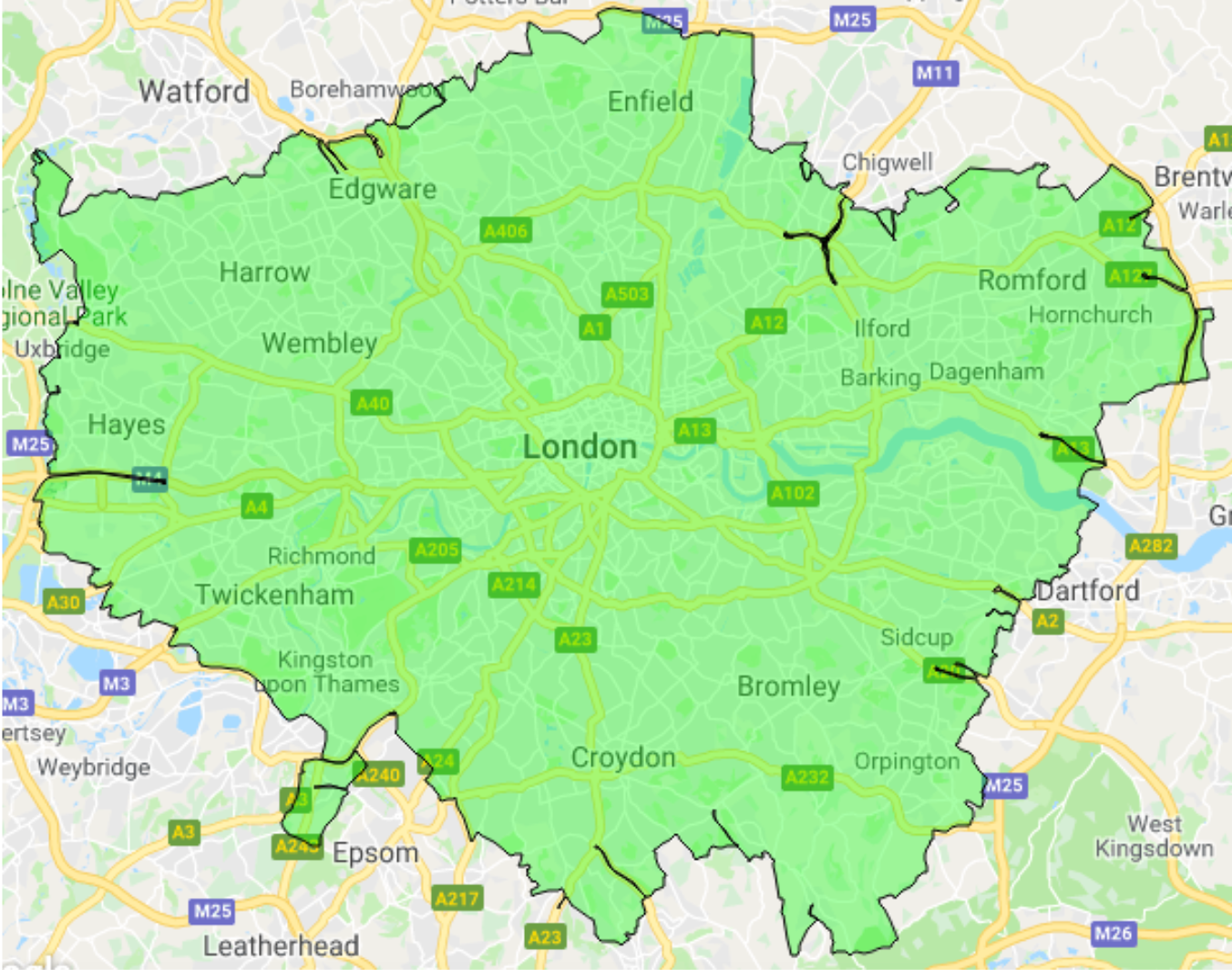 The LEZ covers a wider area and affects commercial vehicles from large HGVs to small vans, pickup trucks and utility 4x4s. It is also permanently in effect. Full details are available here.
Congestion Charge Zone
Introduced in February 2003, the Congestion Charge Zone requires drivers to pay a fee for entering the centre of London between the hours of 07:00 and 18:00 each working day.
The ULEZ has been put in force in the same area as the Congestion Charge Zone. Ultra Low Emission Vehicles (ULEVs) are exempt from the Congestion Charge Zone, though vehicles must pre-register each year to claim the exemption, and there are other exemptions. Full details here.
Tip: While it can appear confusing which charges are due for your trip, we strongly recommend using this portal which calculates what is due based on the day of access to the ULEZ and your vehicle registration number.