Project Overview
Paack is a transport and parcel company that began its trajectory five years ago in the city of Dubai, with a team of international engineers whose objective was to conceive a model of transport and parcel company capable of offering a high value contribution to online sales, from an efficient programming of delivery times.
Since its origin, and in only 5 years, the company has been growing and evolving constantly, until becoming one of the reference companies in the transport and parcel sector in Europe.
Paack currently has its operational headquarters in the city of Barcelona, in whose offices work a young and dynamic team, composed of more than 240 high-level professionals, who are specialised in different areas, related to logistics, transport and technology.
This growth and evolution has made it possible that we are currently making scheduled deliveries to more than 60 European cities in countries such as Spain, Portugal, France and England, with the support of nearly 3,000 professional drivers.
Paack drives online sales for more than 100 international clients, including some of the world's leading e-commerce operators.
For Phase 1 we installed 8 Chargers spanning across 8 parking spaces utilising smart charging infrastructure that will be used 7 days per week 365 days per year.
Each charger is capable of delivering up to 64 miles per charger per hour, the system is capable of delivering in excess of 250 miles of range per hour across all charge points under maximum load.
Challenges
The biggest challenge for Paack Perivale was cost tracking and management for users varying from, internal company visitors, external company visitors, contractors and external agency drivers.
The requirement was to provide a EV service with the ability to track costs and charge back for individual users on a monthly cost reporting basis yet have the ability in future to enable payment at terminal to at all EV Chargers when required.
Due to the nature of Paack's business reliability was crucial any down time for a logistic company operating 100% EV fleet across their fleet could be costly to their business so this was a key consideration for hardware specification.
Solution
Virtus Energy offers a fully managed service from initial consultation through to surveying, installation and maintenance.
Using the Easee Charge system, Virtus Energy was able to install 8 charge points. The EV chargers were wall mounted and all cables buried underground.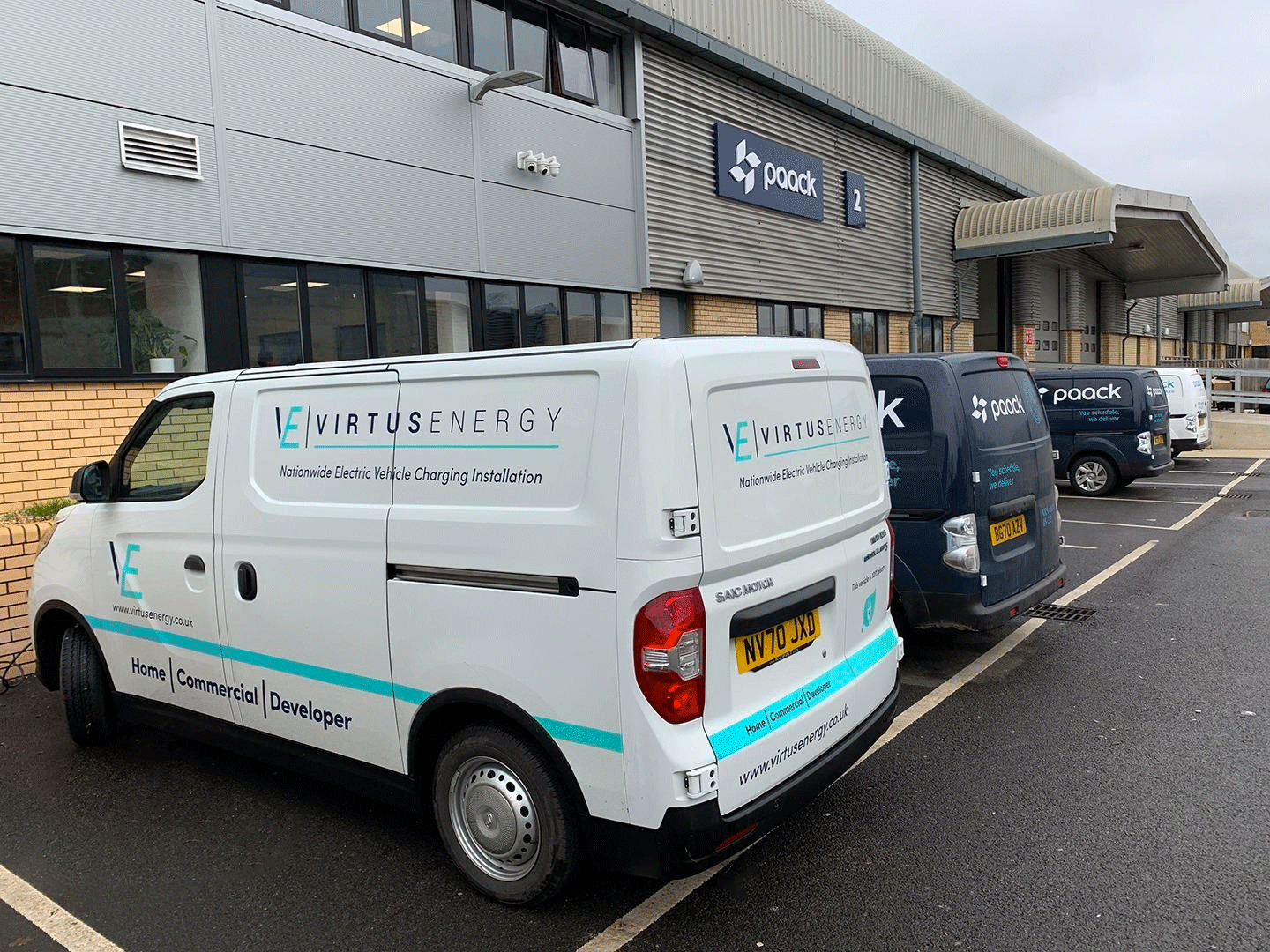 Result
Virtus Energy's charge points are internet enabled, either via WiFi or 4G connectivity, which means Virtus Energy's service and support team is able to troubleshoot any problems remotely, often before clients are aware of any issues.
Problems can be resolved more efficiently, compared with 'dumb' chargepoints, as the need for on-site maintenance is reduced.
Using Virtus Energy's back office Smart Reporting, Paack can monitor individual usage of the charge points and accurately track costs and recharge where required.
All EV Drivers have been set up with RFID cards for cost tracking management. When utilisation of the charge points reaches a certain level, Paack will begin next phases to increase provisions for EV drivers.
Testimonial
"First class consultative service and cutting edge products. Highly recommended."
James Lovett – General Manager Paack UK